Give your guests a day to remember by tying your wedding favours in with your 50s theme. There are so many brilliant ideas out there for retro wedding favours that I think I may have to do several posts to cover them all, here's a few of my favourites to start off with!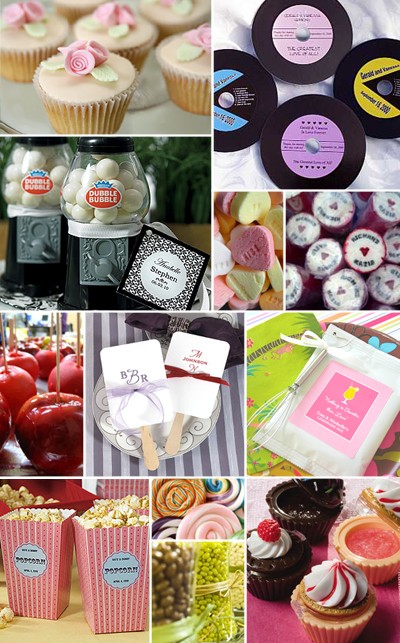 Why not give the archetypal favour (i.e. a bag of sweets) a twist by using retro sweets such as Love Hearts, giant candy lollipops, popcorn, custom sticks of rock, or a even personalised gumball machine! A boxed cupcake for each guest would look the part and go down a treat at a 50s themed wedding. For a winter wedding, what could be more fitting than a home-made shiny red toffee apple!
If it's a non food treat you are after, then how about a custom mix CD disguised as a vinyl record, perfect for the music loving couple! Other retro gift ideas include personalised lemonade mix, vintage style fans, cupake lipgloss and glider kits (thanks to Laura and Scott from our October wedding story for the last two ideas!)
"So where can I get all this fab stuff?" I hear you cry! Retro sweets from
Retro Tuckshop
, lollipops from
Favors and Flowers
, customised rock from
The Rock People
, cupcakes from
Truly Scrumptious
, vinyl CDs from
Escape Concepts
, popcorn, gumball machine, lemonade mix, fans, lipgloss and gliders all available from
Wedding Things
, also check out Escape Concepts for a range of
wedding favours and table decorations
.
Retro wedding favours, 50s wedding favours, Cupcake wedding favours